Contact our Banquet Coordinator
Thank you for thinking of the Vintage Brewing Co. for your private event.  We are available for morning meetings, lunch or dinner events.  Accommodating all types of events is our specialty.  Our Event Coordinator will help you customize your event and determine which of our rooms' best fit your needs.  If you are looking to host a private brunch or luncheon, business meeting or team building event, rehearsal dinner, birthday party or a baby shower you will find our convenient location, from scratch menu, and award winning craft beers will charm you and your guests.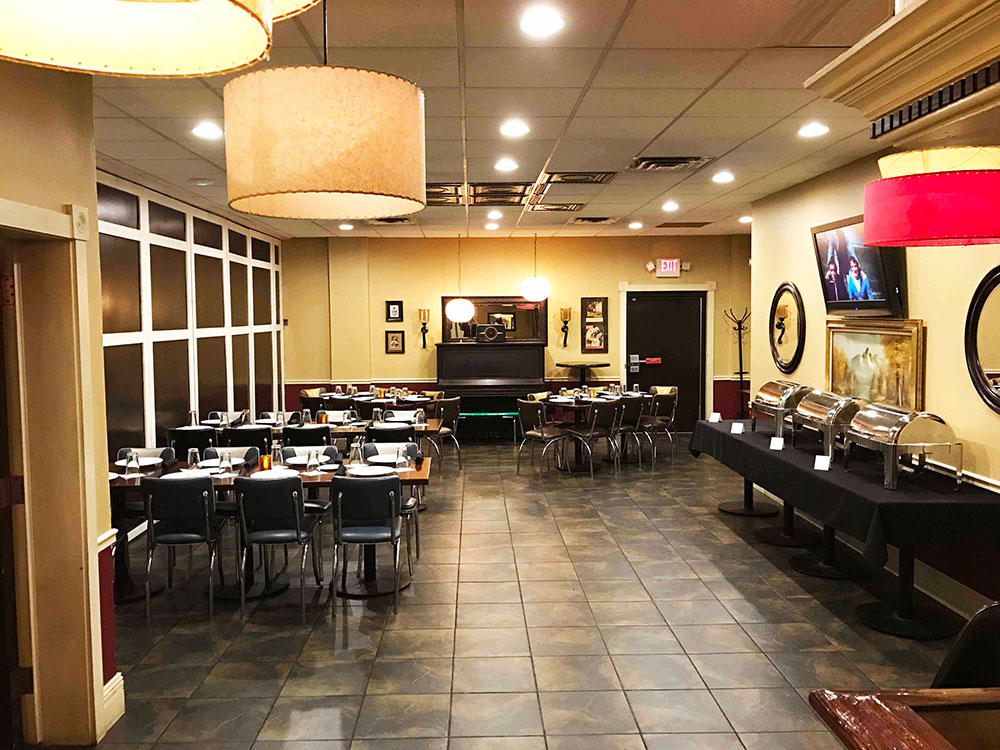 Monroe Room
Accommodates up to 25 guests for seated events and up to 30 guests for a cocktail style event.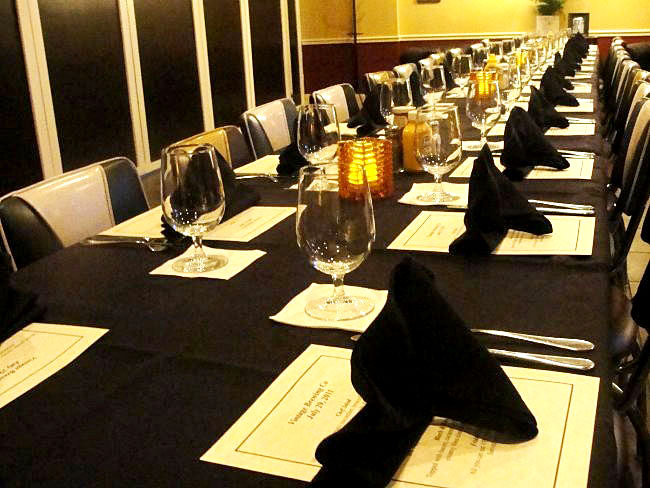 John Wayne Room
Accommodates up to 35 people for seated events and up to 40 guests for a cocktail style event.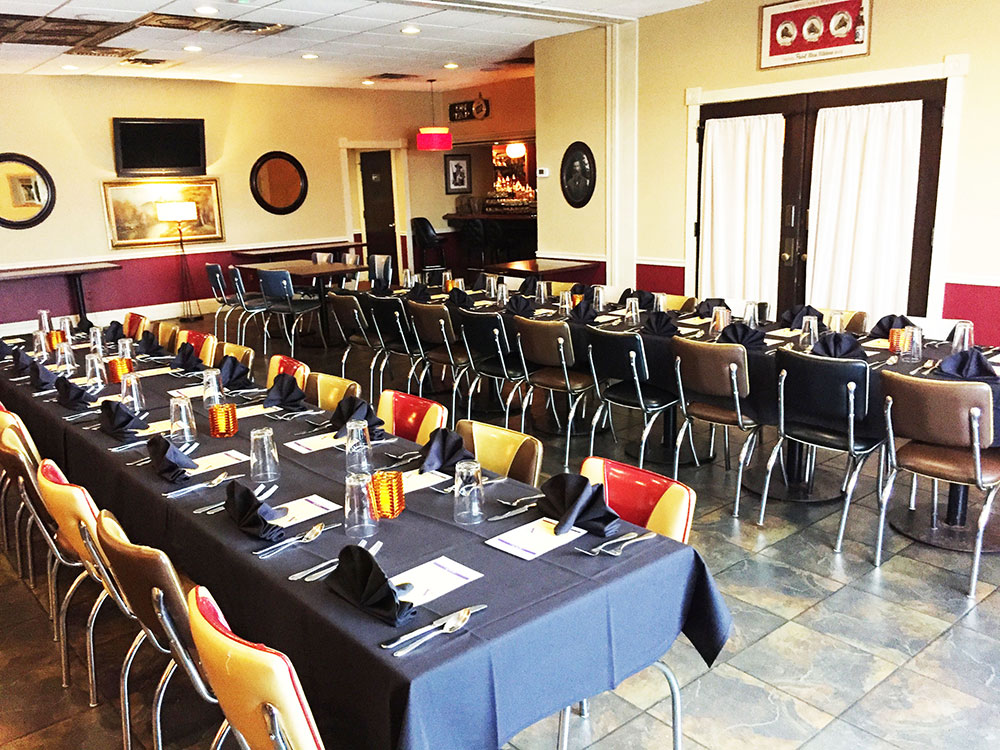 Full Banquet Space
Accommodates up to 65 guests for seated events and up to 100 guests for a cocktail style event.  Typically reserved for large parties, we recommend a minimum of 40 guests.
Amenities
Our private dining rooms have the versatility to be used as one large room or divided into two rooms all with flexible seating options.  All rooms include free Wi-Fi and flat screen TVs that can be connected to your computer for a presentation, play your favorite sporting event or "vintage" TV movies.  The Full Banquet and John Wayne Rooms have private restrooms and a full-service private bar.  The Marilyn Monroe Room offers a large bay window with natural lighting.
---
Beverage and Bar Options
We have many possibilities to customize the bar for your event.  If the options listed don't suit your needs, please let us know.
Open Bar – includes all beverages
Limited Bar – a selection of Vintage Brewing Co. beers, house wines and soda
Drink Tickets – includes a limited offering of beverages
Cash Bar – guests pay for their own beverages
---
Menu Options
Private Beer Dinner Menu – Vintage beer dinners are a more unique and exciting dining and drinking experience than your average night out.  Featuring a chef inspired menu, all items are made from scratch with an emphasis on locally sourced seasonal ingredients.  Our brewers work hard to offer a wide variety of award-winning craft beers, with approximately 40 different taps available.  Our craft brews will suit any palate and pair perfectly with our Chef's menu to create a memorable night out.  Group size: 25-60 guests
Special Event Plated Menu – Perfect if you are looking for a more elegant dining option for your special occasion. When more than one entrée selection is being served, place cards are recommended to be color coded or have approved categorization.  Group Size: 25-65 guests
Buffet Menu – Choose one of our signature buffets or stick with one of the classics.  Group size: 15-65 guests
Traditional Dinner Menu – Love our dinner menu?  We can create a limited menu to include 4-7 of your Vintage Brewing Co. favorites.  Group size: 25 guests or less
---
Event Minimums
To reserve our banquet room, Vintage Brewing Co. requires a food and beverage minimum.  If the room minimum is not met, the difference will be reflected as a room fee.  Minimums do not include tax and gratuity.  Final bills are to be made as a single payment only (no individual checks please).
---
Frequently Asked Questions
Can we bring our own dessert? You are welcome to bring in your own cake, however, a $25 cake fee will be applied. This fee includes use of plates, forks, napkins and serving utensils. If you bring in your own supplies, this fee is waived.
Can we hang decorations? You are more than welcome to bring decorations. Please no glitter, confetti, or hanging decorations on the walls.
What type of AV hook ups do you have available? We offer a projector and screen or two flat screen TVs for presentations.
Can we arrive early to set up?  You may arrive up to 15 minutes before your scheduled event start time to set-up or decorate.  Any additional time needed would change your contracted start time and food and beverage minimums.
Thank you for considering Vintage Brewing Co. for your special occasion.  Please contact our Banquet Coordinator for more information or questions.
Michele Nicholson • 608-204-2739 • madisonbanquets@vintagebrewingco.com
"The event was great. Good food, good drink, and great service. Thanks for all of your assistance. You made remote planning a breeze.

Our Madison friends were impressed so I'm sure they too will keep you in mind." 

Greg
"Last night went perfectly. Everyone really liked the new venue and we had plenty of room. Your staff was very helpful and took great care of us. We will definitely be back there next year. If you could reserve for us next year it would be much appreciated. Thanks again for all the work you put into making our banquet the best ever." Tom
"I just want you to know the party was a huge success!  Everything went well and the people working with us were so kind and helpful. We got a lot of compliments as to how everything was handled and they all enjoyed the delicious food and drinks.  It was a nice variety of everything. We even had some people ask us what is involved in booking a party in a few months!  I told them to contact you! Thanks again for all your help!!" Geralyn
"Thank you so much! We had a great time on Saturday- the food was excellent, the bartender Sean did a fabulous job, and everyone really enjoyed themselves. I loved the decorations and set up of the room, it was very fun and whimsical, just what we wanted. I will definitely keep the Vintage in mind for any future events. Thanks for making everything so easy for us! "

Katie